USCIS has published guidance on its Questions and Answers page for requirements and issues relating to the EB-5 Reform and Integrity Act of 2022 (RIA). The guidance clarifies some regional center and investor requirements and provisions, including some benefits for pre-RIA investors, but still leaves a few important questions unanswered.
I've highlighted some key points of agency guidance, along with commentary from veteran immigration lawyer Robert Divine.
Investment-capital sustainment changes — but only for post-RIA investors
Before the RIA, EB-5 investment capital had to be kept "at risk" throughout the entire period of conditional permanent residency (CPR); now, post-RIA, investors are required to have their capital invested for only two years from the time of investment. Divine notes that this new requirement makes redeployment "rarely necessary for immigration compliance."   As expected, USCIS states that the change in required investment sustainment does not apply to pre-RIA investors.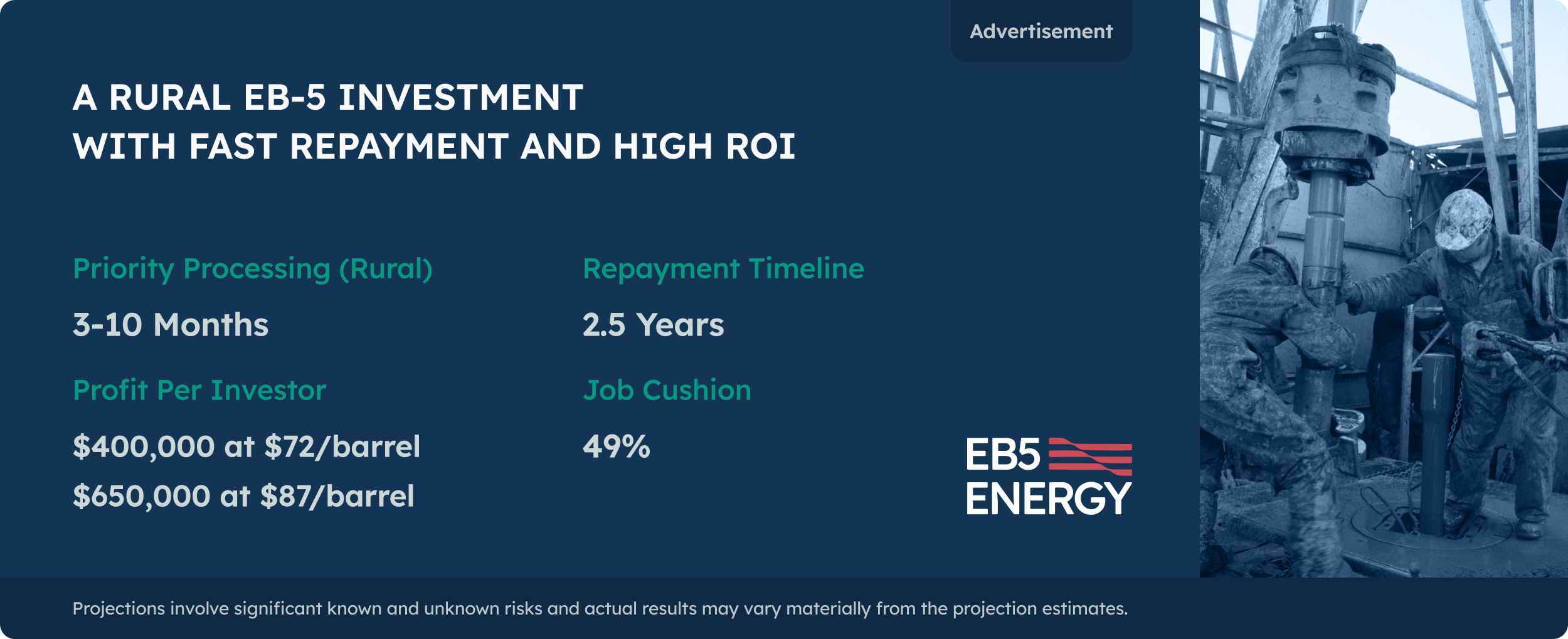 Regional centers require designation before filing a project application (I-956F)
USCIS states that before a regional center can apply for an investment project, it must have USCIS designation (this includes pre-RIA designation). Pre-RIA regional centers may sponsor investment projects before approval of an I-956 amendment confirming RIA compliance. Divine observes that the guidance does not specify a deadline for this amendment.
Once designated, the regional center can file a project application, Form I-956F, along with Form I-956H and a biometrics fee for every individual involved with the new commercial enterprise (NCE) or the affiliated job-creating entity (JCE). Form I-956H, Bona Fides of Persons Involved with Regional Center Program, confirms compliance with the RIA of the required individual.
Following the submission of a project application (Form I-956F) by a regional center, investors may file their I-526E petitions, even before the final decision on the project application.
However, Divine states that the guidance fails to clarify "what only makes sense": the project filing must be approved before any I-526E investor petitions related to that project can be approved.
Pre-RIA petitioners protected by RIA provision for good-faith investors
The guidance acknowledges many pre-RIA investors may have regional centers terminated for lack of compliance with RIA administrative requirements, such as non-payment of the annual Integrity Fund fee. Thankfully, USCIS interprets this investor-protection provision to include pre-RIA investors.
However, Divine points out that the guidance, while not explicitly clear, seems to suggest the following: "It seems that if the reason for RC termination is simply noncompliance by the RC with new RIA requirements, the investors do not need to make use of Subsection M to qualify for I-526 and I-829 approval."
According to Section M, investors who have acted in good faith and are linked to a regional center that has been terminated are required to align their New Commercial Enterprise (NCE) with an approved regional center, without constraints on location. However, Robert Divine interprets the guidance as possibly exempting pre-RIA investors with ties to terminated regional centers from this requirement. Despite this interpretation, Divine emphasizes the need for USCIS to provide clear confirmation on this critical aspect.
A notable advantage for pre-RIA investors who have acted in good faith and are affiliated with now-terminated regional centers is that they are not required to activate RIA protective measures until the Immigration Service issues either a Request for Evidence (RFE) or a Notice of Intent to Deny (NOID). Robert Divine highlights that this effectively means investors can remain calm and wait to determine if USCIS will approve their petitions, even in the event of their associated regional center's termination.
Material change to project still not defined
The guidance acknowledges that minor updates to a project can be submitted as amendments rather than as a new I-956F form. However, Robert Divine sees a significant gap in the guidance: it lacks a clear definition of what qualifies as a "material change." He urges USCIS to clarify what constitutes a material change and its impact on regional centers and New Commercial Enterprises (NCEs). Divine highlights that while the RIA does not specify what a material change is, it does indicate that a significant alteration to a project could hinder the approval of I-526E petitions.
Concurrent filing applies to pre-RIA investors
USCIS has provided clarification that investors who made their investments before the implementation of the RIA are permitted to simultaneously submit their investor petition (Form I-526) and their application for adjusting their status (Form I-485). This process of concurrent filing enables EB-5 petitioners currently in the U.S. to maintain their residency and employment in the country during the processing period of their petition.
See Robert Divine's comments on the USICS guidance